When I say that Kiara looked like a real live princess, I totally mean it! She has an ethereal beauty and the softest heart that makes you think of a Disney princess singing in the meadows and loving everyone she meets. She has a contagious smile, and her warm caring nature will make you love her long after you've met her! Here is her romantic wedding day.
We planned her day well in advance, they were prepared, knew what they wanted and were so open to advice and suggestions that it made it a pleasure to chat to them about their romantic wedding day at any given chance. 
Kiara and her girls arrived to get ready early Saturday morning and the vibe was energetic and happy and super contagious. They were the nicest group of girls and we could always hear a giggle coming from their rooms as the were enjoying getting Kiara ready for her moment with Andrew.
One of the most beautiful moments that afternoon (and man there were many!), was when she did a reveal to the ladies and then to her father. He was already emotional when he arrived all dressed up handsomely, ready to walk his baby girl down the aisle. So, when the time came to call him in to see her, the tears (everyone's tears including mine) flowed freely as we took in this proud moment between dad and daughter.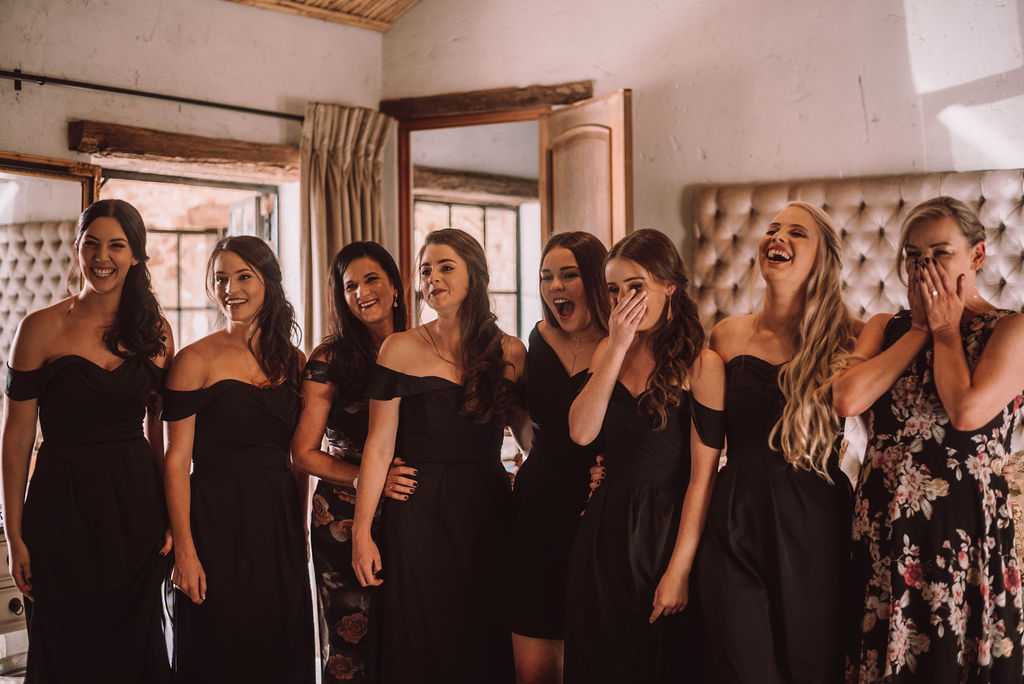 Then Andrew decided to add to all the beautiful emotions and send Kiara a love letter…the romance was palpable. Kiara went outside to read his words of love and adoration and you just knew it was a good note, the love radiating from Kiara's face was so wonderful to see. Love really is the greatest thing!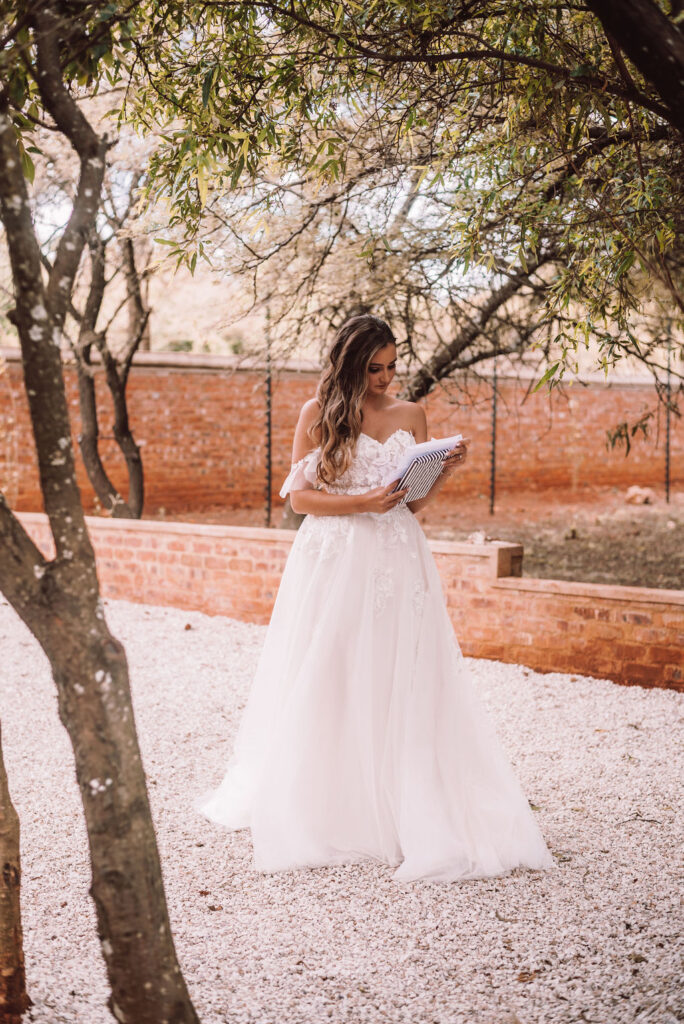 And in case you think I'm neglecting the chaps…here's a sneak peek at what they were up to while we were crying (ha-ha!)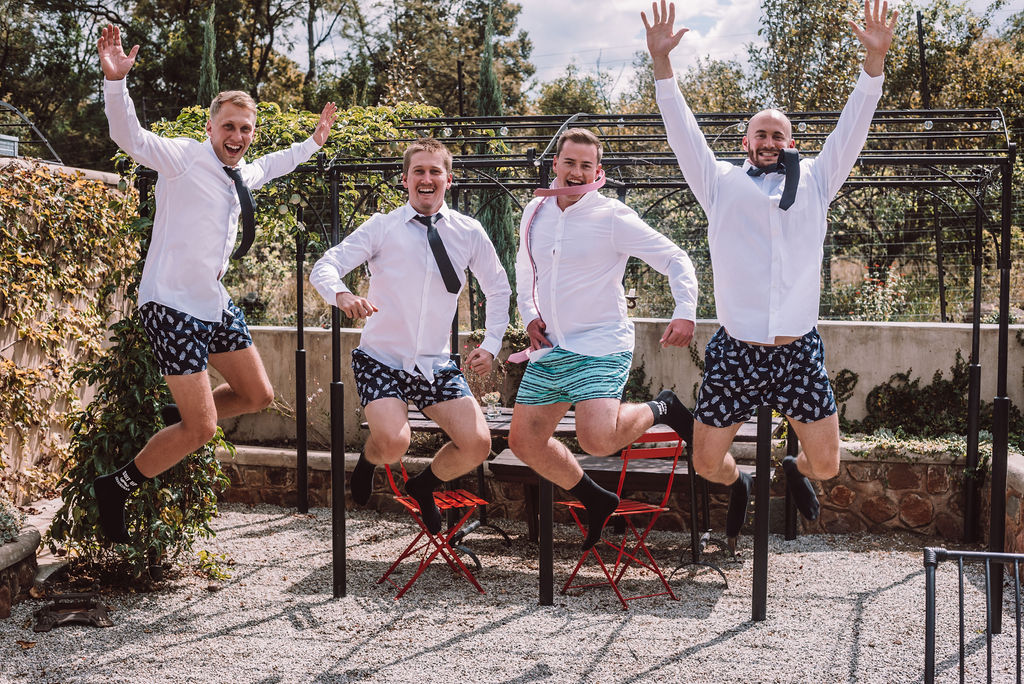 And that turned into this… dapper, handsome chaps ready to be a part of their friends' special day.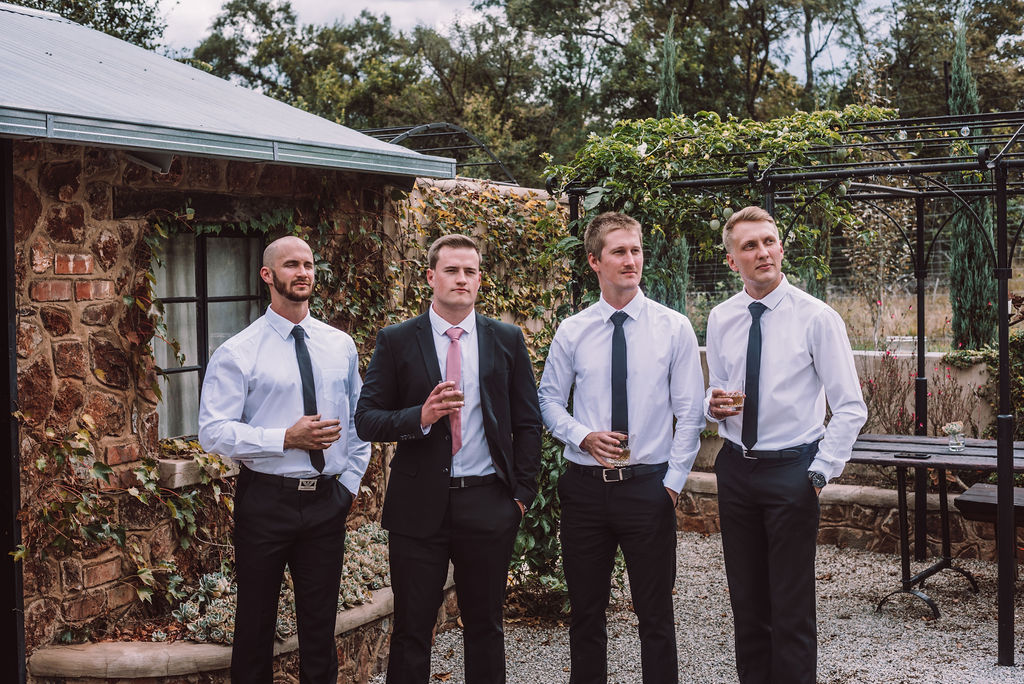 Kiara and Andrew said their I dos under the pergola amidst wafts of lavender and rays of beautiful sunshine. It was dreamy and gorgeous (all the details a romantic wedding needs). When Kiara walked down the aisle, the emotion on Andrew's face was enough to make every person shed a tear and, in that moment, you just knew this was a 'forever thing' they're doing here! 
The reception was held in the hothouse, and the colour palette flowed gorgeously with greys, blush, gold and black. It was elegant and timeless but still so unique. The gorgeous handmade crockery in their shades of grey flowed well with the tones of grey in the wood top tables and the touches of blush livened up the space to make it look feminine and beautiful in the light of the contrasting black candles. These colours really worked so well together, and with the greenery that the space has and the huge glass windows, it was a visual feast for your eyes at every turn.
These two had a fairy tale day with their loved ones, and we will never forget it, and we will certainly not forget them. They have found a place in our hearts permanently, and there is nothing other than love and happiness that I wish for them until grey old age.
PS: our treasured selfie on the way to walk down the aisle is below! And if you want to view more images click here.
Planning & Styling | MODE Weddings 
Florals | The Floristry Studio 
Venue | Campagne Living
Photography | Carmia & Co Photography