A MINIMAL WEDDING RECEPTION OF OUR DREAMS
When I first met Elisma I could tell straight away that she had a specific style. Her fashion sense, her demeanour, her entire self, exuded class and elegance. I knew right away we were in for a wonderful journey to create a magical day for her and Kobus. 
Her dream was to have a minimal wedding table setting that made her guests feel like they were at a trendy dinner party, and so she invited me over to her home to get more of a feel for their couple personality. 
This was lovely for me as she allowed me the freedom to glimpse into their lives and create for them. The highest compliment!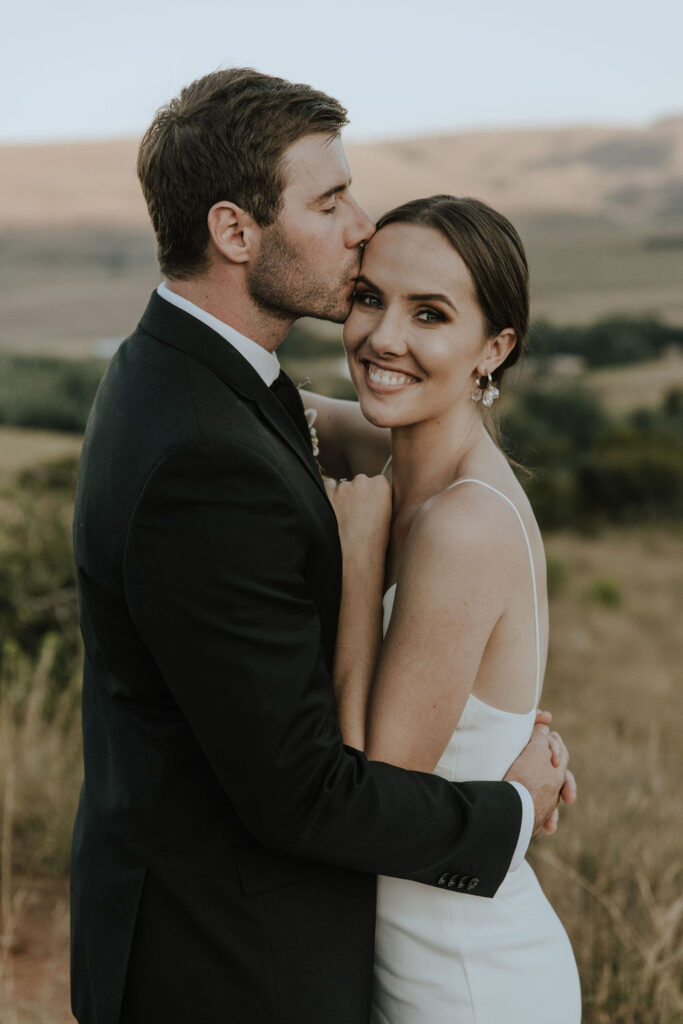 THE WEDDING DAY
Creating a space where the guests could feel comfortable and enjoy themselves was very important to the couple. They wanted them to sit around, sipping champagne and whiskey and enjoying good music with an incredible view while they were out taking photos.
We created pockets of seating outside that looked over the lake and mountains of The Hothouse Venue. True to form, it was trendy seating with white parasols, large neon lights, jute rugs and baskets of greenery. A space you could really enjoy the entire evening. They also had tasty canapés and a gin bar to keep their tummies satisfied!
Their tablescape was something I was really looking forward to! Their colours leaned to a neutral palette with nudes and white. When creating a setting that uses these tones it is important to create interest by layering and using textures.
We used an incredible stone linen tablecloth that was textured and gave a perfect base to begin the layering process. White underplates, clay napkins, tons of glassware in different textures and shapes and the subtle pop of gold in the cutlery ensured this table was as on trend as it can be!
and then they danced…
They made a spectacular entrance with each guest holding sparklers and popped champagne to begin the evening festivities!
One of their good friends was the MC for the evening and man oh man was he on form! He entertained the guests with jokes, stories and song and made each person truly enjoy spending their time celebrating the couple.
The food was spectacular and everyone feasted on platters full of veggies, meats and salads and when their tummies were full, they danced the night away!
This is truly a wedding I will never forget! Thank you Elisma and Kobus for trusting me and my team to create this day for you! We wish you a lifetime of happiness!
You can view more incredible images here.
Lee Xoxo
STYLING & PLANNING | MODE WEDDINGS & EVENTS
VENUE | THE HOTHOUSE DULLSTROOM
BOUQUETS | THE FLORISTRY STUDIO
CATERING | TOAST FINE FOODS 
PHOTOGRAPHER | BAHAMA BURGUNDY
HAIR & MUA | UNMISSABLE MAKEUP