FROM THE INSTAGRAM LIVE LEE TALK with nyoka coetzee from wild leaves floral design
I am excited to chat about selecting your wedding flowers, because as much as we love florals and they make us really happy to incorporate in our weddings and events, the floral market has taken a hit since Covid struck and has become quite unpredictable. Heart-breaking to say the least. Our goal is to give you a glimpse into what goes into the quotation process and how all the Covid stress has changed things for us.
Flowers remain a vital part of overall wedding aesthetic. As a wedding stylist, I work closely with florists to ensure we create a pleasing aesthetic throughout the wedding day and all it's various aspects. Many brides feel they can attempt selecting their wedding flowers themselves (which is entirely okay and up to you) but the work that goes into the design, collection, cleaning and installation of florals for your wedding is severely underestimated. You need to ensure that selecting your wedding flowers works cohesively with your decor and theme of choice.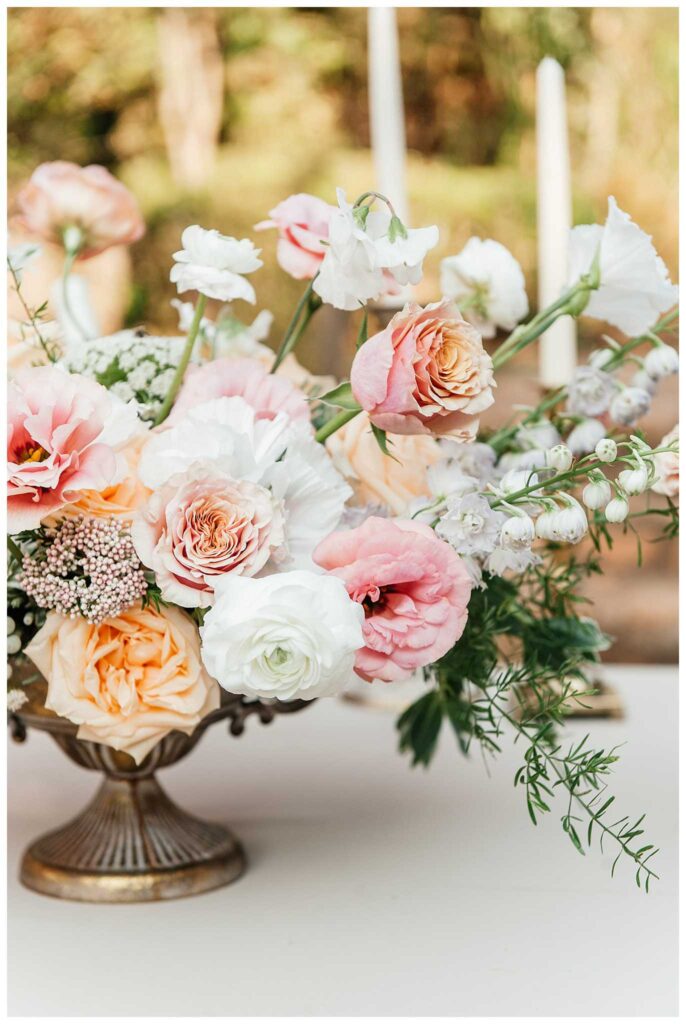 SO WHAT HAPPENED?
Before we were all struck with different issues where Covid was concerned, the flower market had a vast abundance of availability and it was a somewhat pleasant experience in quoting our brides for their wedding day.
There was still a wide array of florals we had access to, including the imported market. But this had shut down, obviously, while we were all in lockdown. As did all our weddings which were either cancelled or postponed.
Having said that, our local farmers took a devastating knock and once we were able to have micro weddings again, they had not yet fully recovered and some even shut their doors (sad news). For us this meant a limited supply of florals and an increase in the cost of those that were available.
To me, this is all entirely understandable. Of course things were going to get rough and unstable. But that also meant translating / interpreting that to our clients so they could understand the immense pressure florists were under to provide, and the added stress of giving you what you had envisioned for your wedding day! BC (before Covid) we had an understanding of market fluctuations on floral pricing and we were prepared for it. Now however, it differs on a weekly basis and at times the prices have been tripled, which makes it insanely difficult to quote on, as we may only find out the week of the market or auction what our prices are going to be!
Allow me to give an example…last week (it was a Wednesday) we paid R25 per rose stem at the auction (shock horror) and had to purchase for a large wedding the weekend. The very next day (Thursday) the market dropped and roses were R5 per stem! It cannot quite translate what we feel when that happens. I say this to give you insight into the struggle it can be when quoting and purchasing for your floral designs.
SO WHAT DO WE DO ABOUT IT?
The most important thing for me is to not get weighed down by the stress or negativity of the situation we are all facing right now. When it comes to styling and creating your design concept for your wedding day, I am sure to be clear with my couples that we are giving best case scenario for their floral wishes, and that they may need to be prepared for slight changes as it gets closer to their wedding date. Again, this is about trust. We have discussed your colour palette, your theme, your style desires, so if a situation arises that we have no control over (massive increase in pricing or no availability), it is always best if they are prepared to trust that we will still create a beautiful wedding day design for them. It may look slightly different than you originally imaged but it will still be gorgeous!
And for us as suppliers, it gives us the opportunity to get creative for you! What a lovely thing to be able to do, to ensure that you get a gorgeous day and aren't disappointed in the least!
IF BUDGET IS A CONCERN WHAT DO I DO?
Choose one focal piece like an arch or a hanger to create an impact and then use less on the guest tables.
Ask your planner/stylist/florist how you can do a tablescape that still has floral elements without it breaking the bank too badly.
DON'T skimp on the bridal bouquet but do something smaller or different for the other bridal florals.
THINGS TO REMEMBER
Greenery runners are not the budget friendly option.
No flowers are ever 100% guaranteed.
Dried and bleached florals are not a cheap option and can be up to 3 times more expensive than fresh florals.
Always let your planner/stylist/florist help you get creative, it will give you a unique wedding design.
Heat / venue / transport all affect the floral choices.
Transporting florals require care and if it's long distance sometimes even a refrigerated truck!
We love floral design and we are passionate about giving you the very best!

Trust us to do so

🙂
You can view more of Wildleaves work here and more of MODE's work here
Listen to the full LEE TALK here!